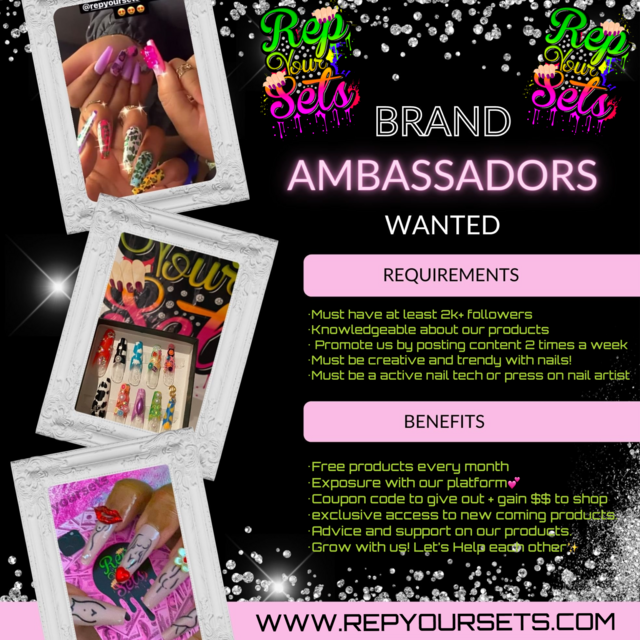 Brand Ambassador
• Brand Ambassador
Join Team Rep Your Sets - Be a Brand Ambassador
Do you have a edge for creating new and inspiring nail designs using our products?
Like keeping up with the latest nail trends and testing the latest products?
Love being social? and enjoy snapping #nailfies to share with all your friends and online followers?
If so, join our community and become a Rep Your Sets Brand Ambassador!
         Brand Ambassador Program 
Innovation is the key to unlocking your potential as a leading nail brand ambassador. We want to work with motivated talent that can connect with the audience and show case your work for the world to see. Together we can support each other and focus on brand recognition for the nail artist and the brand.
 

Responsibilities of being a Brand Ambassador:


As Rep Your Sets Brand Ambassador, you are one of a select few who are actively involved in the online marketing of our company. Your main duty is to use your social media platforms and your skills and enthusiasm to drive traffic onto our site. This entails producing exciting content for your online followers using Rep Your Sets LLC Nail  products. Whether this is done through a photo, video, live video or YouTube tutorial or raw form send it to us as we will edit it to make your look like the star you are, It can be simple as a unboxing video, TikTok watch me video, or  pictures that include only our products etc the choice is yours!
All we need you to do is to use high resolution imagery, describe the product as passionately as possible and finally add a link or tag to the Rep your sets website, IG and name of our products.
 

Our requirements are-
- Must have a high social media presence (preferably over 1k+ followers)
- Be knowledgeable about repyoursets products, but remember we are always here to answer your questions and support you
- Share your unique and exclusive discount code on your platforms for all REP YOUR SETS related products
- Endorse REP YOUR SETS in a positive way, interact with our potential customers and in doing so increase our brand visibility in a positive way.
- Post content about REP YOUR SETS  and the products at least twice a week, every week
- Be creative, the visual context and quality of your posts are really important
- Good written communication skills
- Proficient in social media
- A good eye for photography/videography
Benefits of being a Brand Ambassador:
We aim to be as dedicated as you are in your quest to gain more customers and social recognition. We are here to give you all our support and as we grow our team will grow giving you more support and opportunity.
Help us, help you… we can supply you the essential materials and tips for promoting REP YOUR SETS Brand Including, free products and an exclusive discount code that you will share via your social media channels.
 Your reward potential is determined by how many people use your exclusive discount code. This creates an ongoing cycle - the more products you promote, the more products you receive - as long as you remain a REP YOUR SETS Brand Ambassador… 
Does this sound like a role for you? If so, we would be delighted to hear from you. To be considered, 
please  email
SUPPORT@repyoursets.com
with your 
Name, contact information, Email address.
SOCIAL MEDIA info, 
Why REP YOUR SETS  is a good fit for you?
What you can offer us as an Ambassador?
What motivates you?
How long have you been doing nails or press on nails?